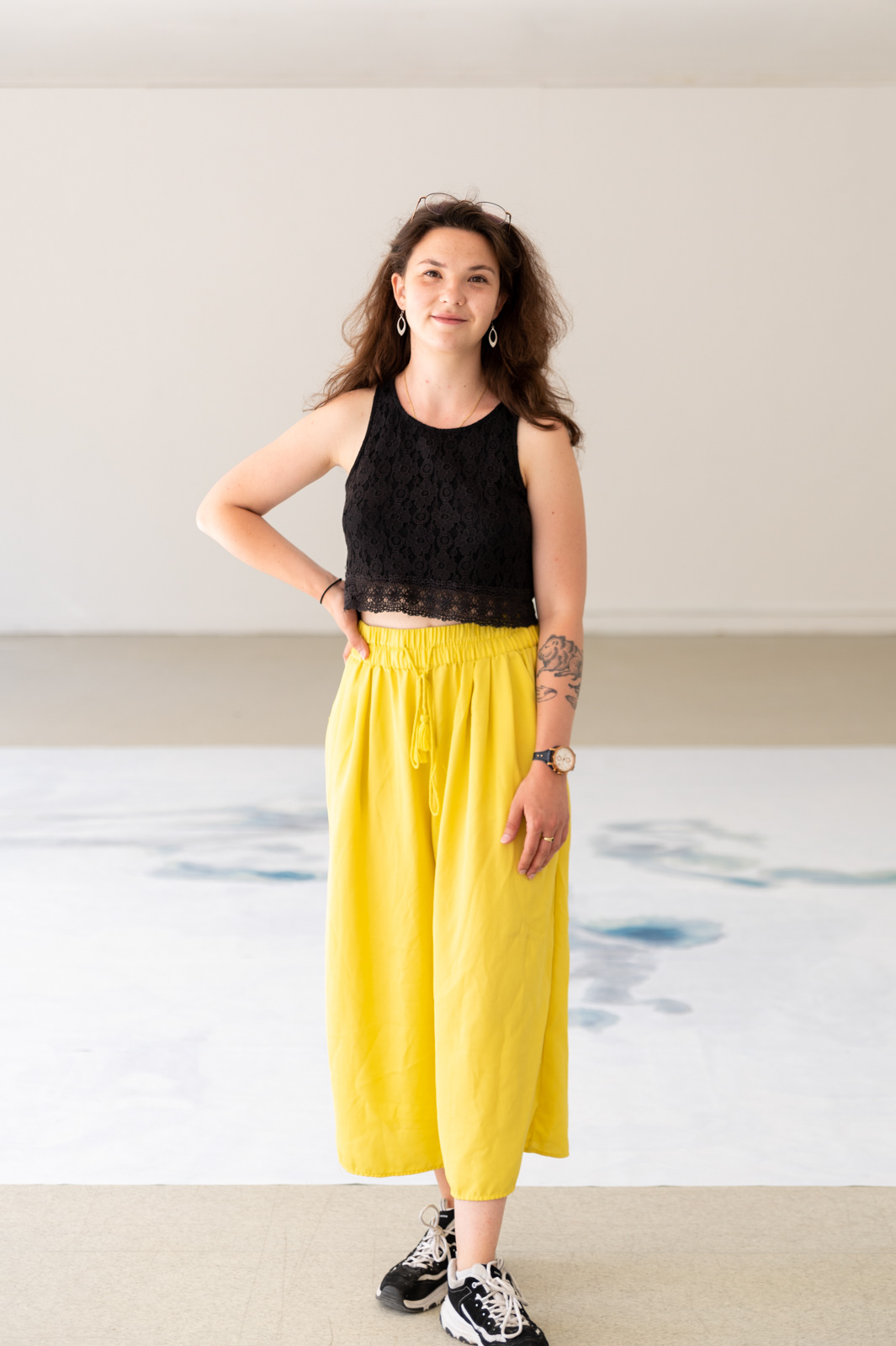 Née en 1994 à Rodez, Cécile Renoult vit et travaille à Paris.
Après des études de philosophie à l'université Paris 1 - Panthéon Sorbonne, elle entame des études d'art à l'Ecole Supérieure d'Art et de Design de Reims où elle valide son DNA puis son DNSEP. En parallèle de ses études, elle entre au conservatoire de Reims en chant lyrique et écrit pour le compte d'artistes plasticien·ne·s et d'institutions.
Elle est lauréate en 2021 du Prix Prisme.
À travers des pièces immatérielles, des photographies et des sculptures, elle interroge les limites de la représentation, leurs enjeux éthiques et la plasticité du langage. Ses travaux souvent déplacés ou transformés par le temps se veulent poreux et sensibles à leur environnement. Elle s'intéresse également à l'intelligence artificielle tout à la fois comme altérité créatrice et comme outil émancipateur. 

Born in 1994 in Rodez, Cécile Renoult lives and works in Paris.
After studying philosophy at the Paris 1 - Panthéon Sorbonne University, she began studying art at the Ecole Supérieure d'Art et de Design in Reims where she obtained her DNA (national diploma of art) and then her DNSEP (national diploma of visual expression). In parallel to her studies, she enters the conservatory of Reims in lyrical singing and writes for visual artists and institutions.
In 2021, she won the Prisme Prize.
Through immaterial pieces, photographs and sculptures, she questions the limits of representation, their ethical issues and the plasticity of language. Her works, often displaced or transformed by time, are porous and sensitive to their environment. She is also interested in artificial intelligence both as a creative otherness and as an emancipating tool. 
EXPOSITIONS COLLECTIVES / COLLECTIVE EXHIBITIONS
If there is sentient life in other parts of the universe, there is music too
. The left place, the right space, Reims
Nourrir, ce nourrir
, Galerie SometimeStudio, Paris
Féminité(s
), Hôtel Mercure, en partenariat avec l'Institut Jean Godinot, Reims
Paréidolie
, centre d'art CAMAC, Marnay-sur-Seine 
ÉCRITS ET PUBLICATIONS (sélection) / WRITINGS AND PUBLICATIONS (selection)
Mezzo Forte
, communiqué de presse galerie Ceysson & Bénétière, Luxembourg
A8
, in MAUVAISES HERBES, contribution poétique à un livre collectif, ARTISTES & ASSOCIÉS, sur une idée originale de Mona Convert.
Tania Mouraud, Écriture(s)
, catalogue d'exposition co-écrit avec Nicolas Couturieux, Hangar 107, Rouen
Objet Impossible, RERO
, catalogue d'exposition, co-écrit avec Nicolas Couturieux, Hangar 107, Rouen